SENSUS, the key word in our name, is derived from the Latin: sensus communis, or "common sense." We realize that clients seek reasonable solutions to complex issues. For this reason, we put forth an objective but value-driven analysis to help resolve life concerns through common sense advice.
SENSUS Wealth is a Registered Investment Advisor. Our firm offers both the traditional wealth management platforms and non-traditional ideas and strategies for clients based on the needs, goals, and net worth of each individual.
SENSUS Wealth offers qualified investors the opportunity to invest in OPCIÓN Investment Strategy, our proprietary professionally managed account using option strategies to create income. Each individual's brokerage account is currently maintained at Interactive Brokers.
SENSUS Wealth is also an Independent Advisory Network Sponsor. Our service provides integrated portfolio, practice management, and reporting solutions to private clients, financial advisors and institutions. The open architecture platform encompasses a broad range of institutional-quality research, investment products, and managed solutions that can be tailored to investors' needs.
As a sponsor to you, our firm provides access to the Envestnet Advisor Suite™, which gives you the tools to navigate a complex process and find optimal solutions to achieve your desired goals. These brokerage accounts are currently maintained at Charles Schwab & Co.
Awards
SENSUS Wealth Advisors are three year winners of the prestigious Five Star Award for wealth managers in Central Texas. In 2014 this award was bestowed to only the top 14% of wealth managers.
Our Vision
We are dedicated to transforming wealth management for the benefit of investors and the advisors who serve them. We are dedicated to serving clients first and foremost with the best solutions possible and to equip them with optimal opportunities to achieve their goals.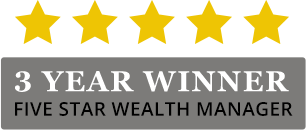 As seen in
Texas Monthly!
Download a copy of the Sensus Wealth Management Group LLC ADV 2A
CLICK HERE
OPCIÓN Investment Strategy